As an entrepreneur pouring every dollar and ounce of energy into growing your business, the thought of paying out for life insurance may seem like a waste of cash. But nothing could be further from the truth.
Buying life insurance coverage can be one of the best investments an entrepreneur can make, providing four invaluable benefits for now and into the future.
1) Protect Your Family
The sad truth is that many entrepreneurs have a lower level of financial security and flexibility than those working a highly paid day job. Unless you have several successful enterprises already under your belt, the chances are most of your capital is tied up in your venture.
If you pass before your time, and before you've had chance to fully arrange your affairs, you could be leaving your family with little or no financial backing. Life insurance will make sure your loved ones are financially stable during a time when they'll already have enough hardship to deal with.
2) Protect Your Business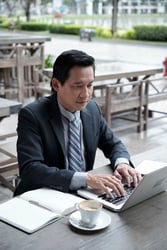 After spending so much time, energy, and money building up your business, it would be a tragedy to see
it all go to waste if an unexpected event means you're not there to continue running it.
A life insurance payout can prevent the company's assets from being taken to clear other liabilities, whether personal or professional. It can provide the financial breathing space to keep the business running until your family or venture partners can decide on a way forward, preserving the value you've worked so hard to build.
3) Invest for Future Personal Wealth
If you choose a whole life policy, or another form of permanent insurance, your policy will grow in value over time. The more you put into the policy through premiums, the greater the cash value it will accrue.
Of course, this means any final payout to your family will be larger if that time comes. But it also means you're building up investment earnings which can be accessed at almost any time, even without the policy paying out.
Few entrepreneurs put enough money aside for their later years, often making business investment a priority for any spare cash they have. A life insurance policy is an effective way of investing for future personal wealth while also gaining the benefits of coverage in the meantime.
4) Legacy Planning
Lastly, if you've worked hard all your life, you'll hope to leave something of value behind, whether that's your business or the wealth it's given you. But after you're gone, the tax authorities will be only too happy to take their share of your assets, reducing the amount you can leave to your loved ones.
A life insurance payout is tax free. Every cent you pay in premiums will be out of the IRS's reach so long as the policy stays active, and will eventually be passed on to the people who you most want to benefit from your lifetime's work.
Highly driven entrepreneurs can have an amazing focus on business growth, but this often means more routine personal finance matters are given lower priority. However, buying a life insurance policy represents an excellent investment for you, your family, and your business alike.